Go Back
Digital Shadows finishes record quarter, enters 2020 having doubled partner revenue and boosted US sales & partner leadership
February 4, 2020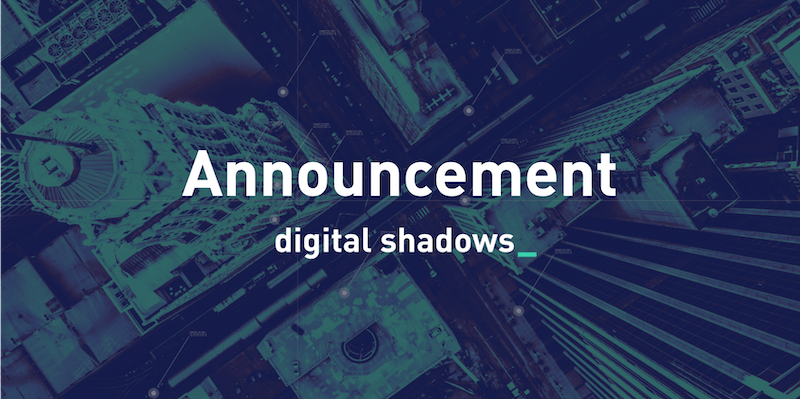 London and San Francisco, February 4, 2020 – Digital Shadows, the leader in digital risk protection, today announces the completion of a record quarter and the appointment of three key new hires to capitalize on growing sales and partner revenue.
Digital Shadows finished 2019 with a record quarter and year. More than doubling partner revenue, the company is focused on expanding its lead in the digital risk protection space by boosting the partner and sales leadership team.
Davitt Potter joins as Director of MSSP and Channel Sales, Americas. With over 25 years partner experience across the OEM, VAR and MSSP channels as well as serving several companies as CTO, Potter will oversee and expand Digital Shadows' growing MSSP and Channels program for the Americas. His focus will be responding to growing demand from MSSPs and resellers for improved external threat intelligence capabilities.
Potter comments: "I have always looked 'around the corner' to what's coming next in technology. The market for external threat intelligence is set for mass adoption and Digital Shadows is the leader in the space making it an easy decision to join. By combining a technical background with a proven sales and leadership record, I look forward to expanding our established partnerships in region and building new partnerships to take the company to the next phase of our growth."
Ben Johnson joins as Field CTO for the Americas from Datashield where he was Chief Security Officer. Johnson is a passionate technologist with over 20 years of professional experience in a wide range of organizations and industries including Morgan Stanley and Zions Bancorporation. In his new role, Ben will leverage his 20+ years of practitioner experience to help clients build their threat intelligence capabilities and operationalize intel to get real value.
Karl Hutter has been appointed to Digital Shadows' Advisory Board. With over 20 years' experience in cyber security software and services, he most recently led the global strategic partner team at FireEye driving $100M+ in annual bookings. His focused expertise in OEM licensing, MSSP and forming technology alliances will be an asset to Digital Shadows as it drives partner success in 2020.
Digital Shadows is also pleased to announce that Tim Goodwin has been promoted to the role of Vice President of EMEA and APAC Sales following his record year driving growth in region. Tim has been on the Digital Shadows team since 2017. Since joining Tim has been instrumental in building Digital Shadows' channel program in ROW and in overseeing rapid adoption for the MSSP offering in 2019.
Alastair Paterson, CEO of Digital Shadows comments: "2019 saw exponential growth for Digital Shadows and our partners, especially in the MSSP space. These key hires each have over 20 years' experience and know how to build a scalable business through partnerships around the world. Partners are vital to Digital Shadows and are core to our strategy for growth in 2020 and beyond. With these new hires and appointments, we aim to make our industry-leading digital risk protection capabilities available to more partners and end users than ever before."
ABOUT DIGITAL SHADOWS
Digital Shadows minimizes digital risk by identifying unwanted exposure and protecting against external threats. Organizations can suffer regulatory fines, loss of intellectual property, and reputational damage when digital risk is left unmanaged. Digital Shadows SearchLight™ helps you minimize these risks by detecting data loss, securing your online brand, and reducing your attack surface. To learn more, visit www.digitalshadows.com.