"Boards, executives, and security leadership must come together to create a security strategy that protects the company from both the inside and the outside to mitigate risk and meet compliance and regulatory requirements. Digital Shadows solves this problem by protecting organizations from digital risks across the open, deep, and dark web. If Digital Shadows isn't monitoring the outside, attackers may already be on the inside."

Art Coviello, Former Executive Chairman of RSA, The Security Division of EMC

"Digital Shadows has proven that their digital risk management service is incredibly valuable, providing my security teams with context, prioritization, recommended actions, and even remediation options to dramatically reduce risk to Sophos."

Norm Laudermilch, CISO of Sophos

"Digital Shadows provides the most complete and adaptable service when it comes to helping us manage our digital risks. This is crucial for protecting our intellectual property, brand, and reputation as we digitally transform our business."

Sascha Maier, IT & Information Security Manager at IWC Schaffhausen

"Rather than publishing regularly scheduled, static reports, Digital Shadows' platform offers real-time, detailed insight into the data it aggregates, the events and leaked data it discovers, and the behavioral attributes and motivations of dozens of adversaries and hacker groups. It also applies its own risk scoring method to offer a business-level view into clients' current digital risk posture."

The Forrester Wave™: Digital Risk Monitoring, Q3 2016

"Digital Shadows are the eyes on the back of our head, looking and alerting us to potential issues we cannot see. We really see Digital Shadows as an extension to our SOC. The service provided and quality of intelligence allows us to respond, predict, and prevent the ever-growing cyber threats, especially in the retail sector."

UK Leading Retailer

"We LOVE Digital Shadows, from the service offering, to the analysts. The whole package."

Security Leader, Fortune 500 customer

"We use a couple of TI firms and Digital Shadows is my go-to. The most responsive, most professional, and most thorough."

CISO, Major Financial Institution

"Digital Shadows is my threat intel team. We use you guys to support us, we want to see it from you."

Manager Global Cyber Defense Operations, Fortune 500 Customer

"We needed an in-depth view of the outer world and what was being said about our Brand. Digital Shadows fulfills this requirement perfectly."

Security Leader, Gartner Peer Insights

"The Digital Shadows platform is complete, with good correlation between actors, groups and analysis of events."

Security Leader, Banking Industry

"Digital Shadows showcases the digital risk dashboard of the future."

The Forrester Wave™: Digital Risk Monitoring
Digital Shadows is a proud recipient of accolades that recognize our innovation, growth, talent, and customer successes.

Digital Shadows is a proud recipient of accolades that recognize our innovation, growth, talent, and customer successes.

Digital Shadows is a proud recipient of accolades that recognize our innovation, growth, talent, and customer successes.

Digital Shadows is a proud recipient of accolades that recognize our innovation, growth, talent, and customer successes.

Digital Shadows is a proud recipient of accolades that recognize our innovation, growth, talent, and customer successes.
We Manage Digital Risks To Protect Your Business
Digital Shadows monitors, manages and remediates digital risk across the widest range of data sources within the
open, deep, and dark web to protect an organization's business, brand, and reputation.
Click the digital risk categories below to learn more about what we cover.
Learn About Digital Risk Management
Explore Digital Shadows SearchLight™ For Yourself
Digital Shadows SearchLight™ shows you relevant, verified, and prioritized incidents that could impact your business.
Navigate below to experience how we help customers monitor, manage and remediate digital risks.
Learn About Digital Shadows SearchLight™
The SearchLight portal is the main means by which we deliver our intelligence, complete with an overview of the latest prioritized alerts, recent activity of threat actors, and wider industry news. Our intelligence and alerts can be consumed in many ways, including through our extensive technology partner ecosystem.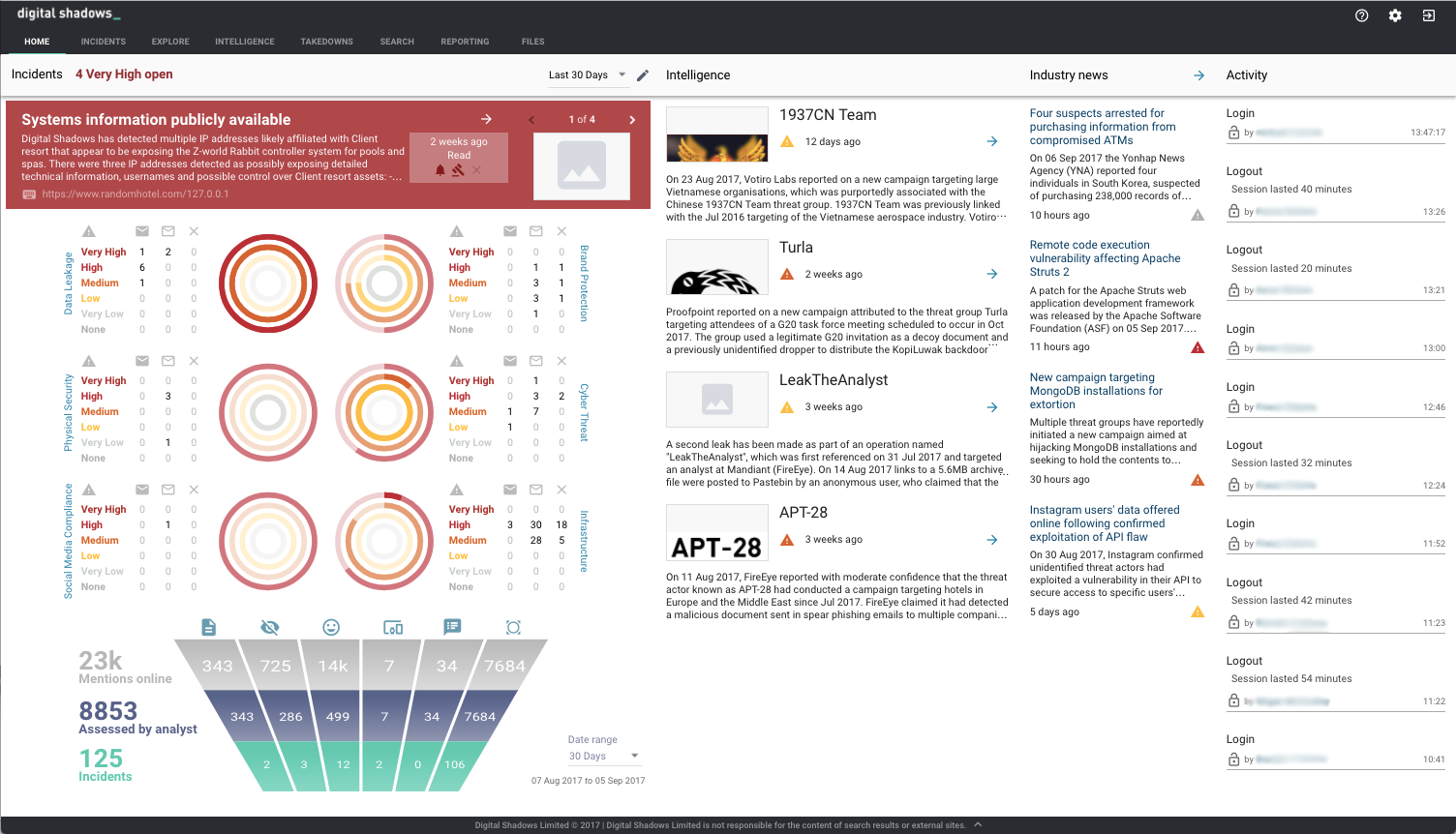 SearchLight makes its intelligence relevant to you from the outset. In order to search for what you care about, we work with you to understand what's most important – your critical assets, threat actors and vulnerabilities – and then create a tailored configuration that enable us to tune SearchLight to meet your needs. Asset registration is dynamic – just like your concerns.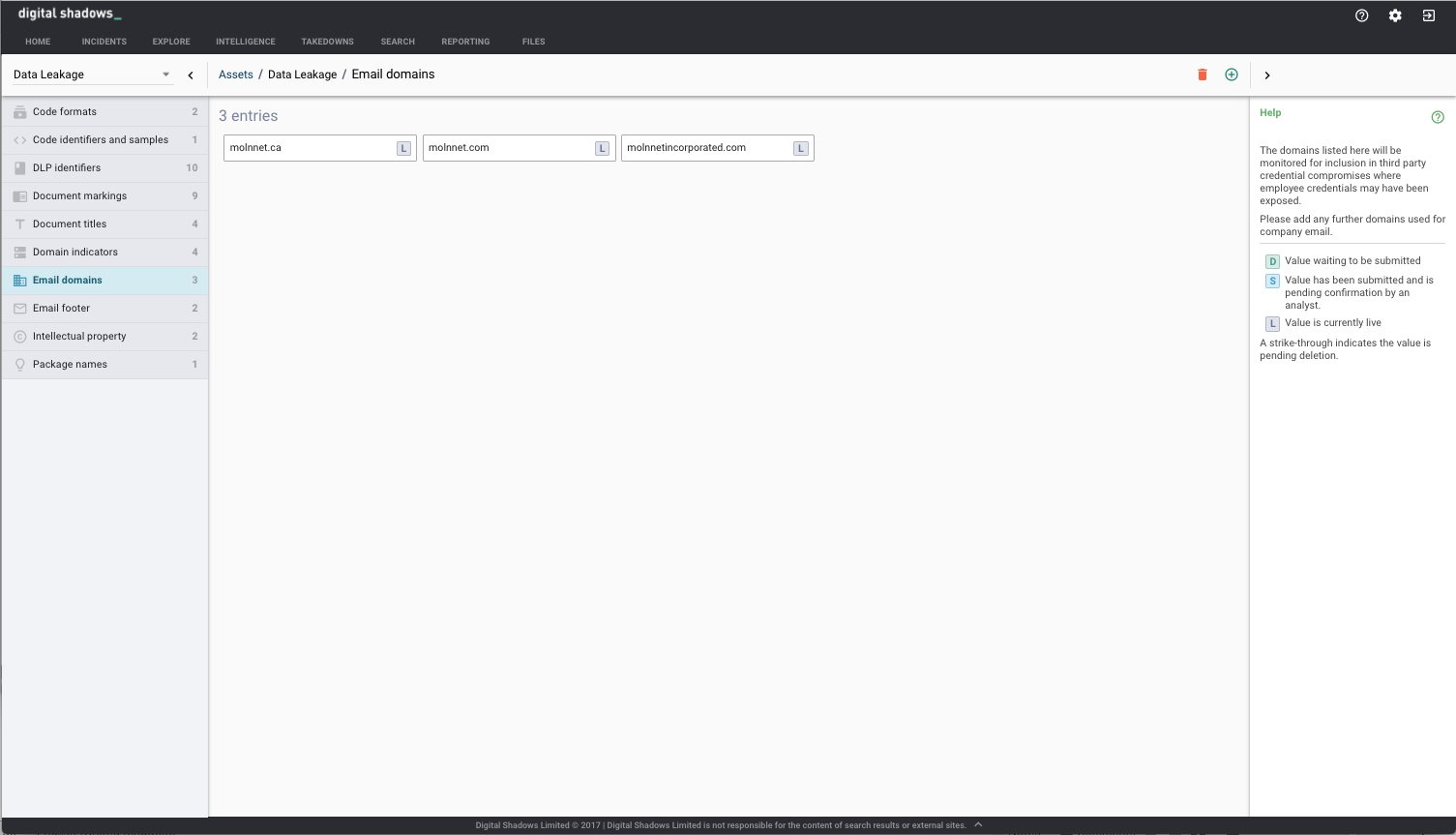 Our Shadow Search capabilities deliver market leading coverage and user experience. Users have unrestricted access to a vast and expanding Digital Shadows content repository to investigate and pivot between data sources, threat actor information and incidents.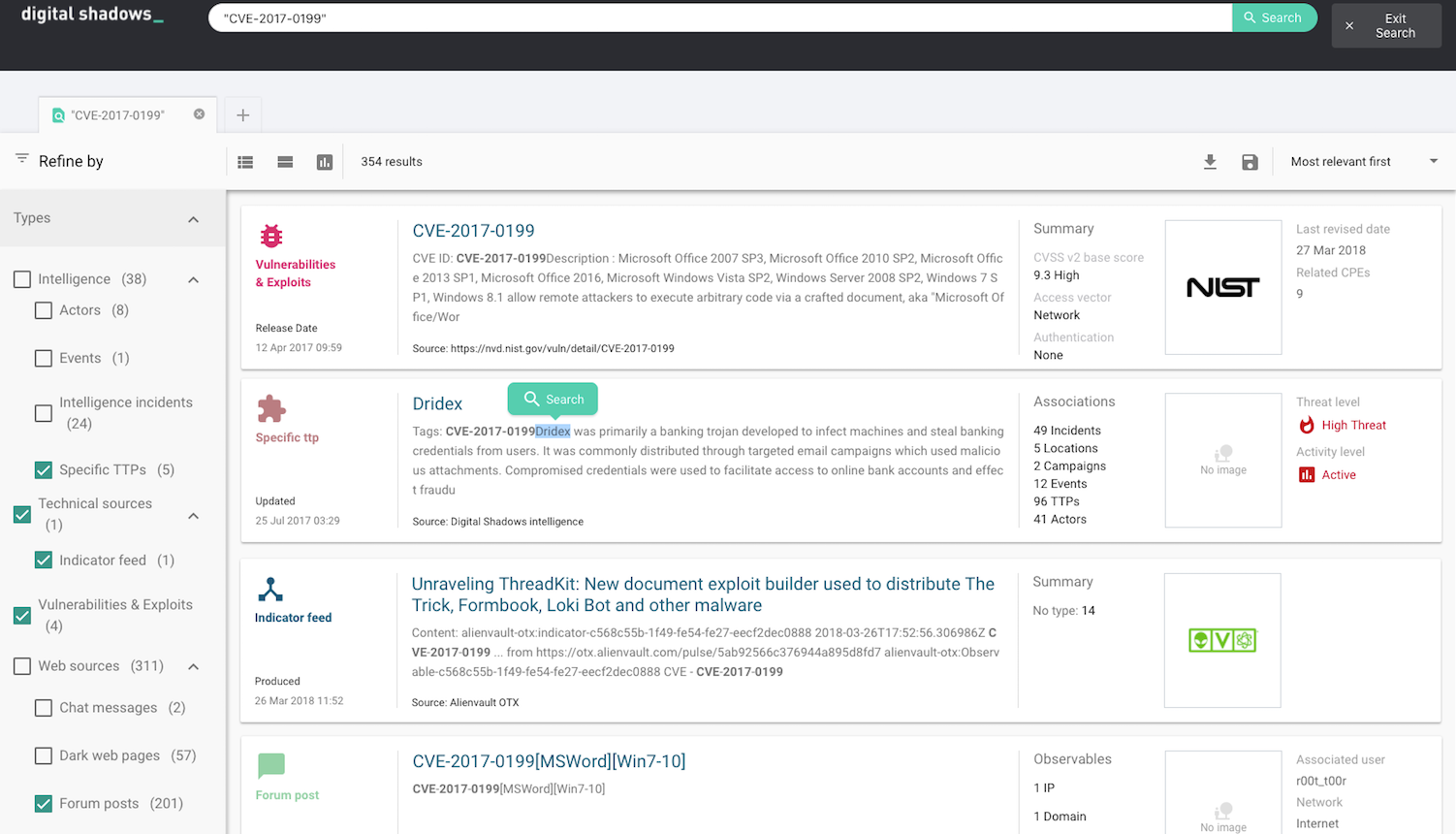 Our experienced team of intelligence analysts deliver timely and relevant alerts to minimize false positives, and provide context and remediation options. Our intelligence analysts lift the signal from the noise so you and your team become more effective and efficient.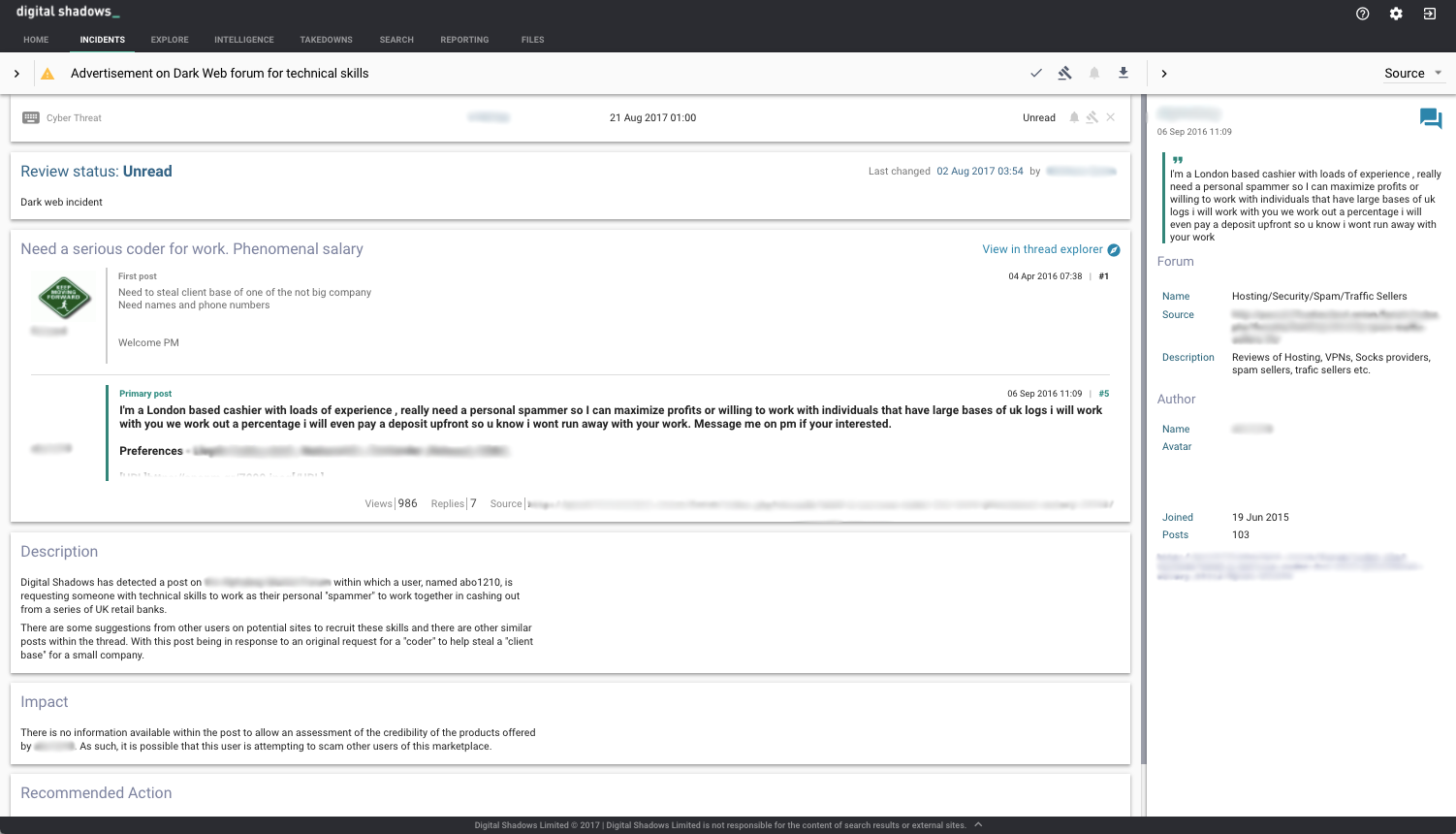 Receiving timely alerts is important, but it is also necessary to understand how you look for digital risks from a broader, strategic level. In SearchLight's Explore tab, users can see all instances of malicious domains, credential exposure, and infrastructure incidents. In doing so, organizations are able to identify commonalities and trends over time.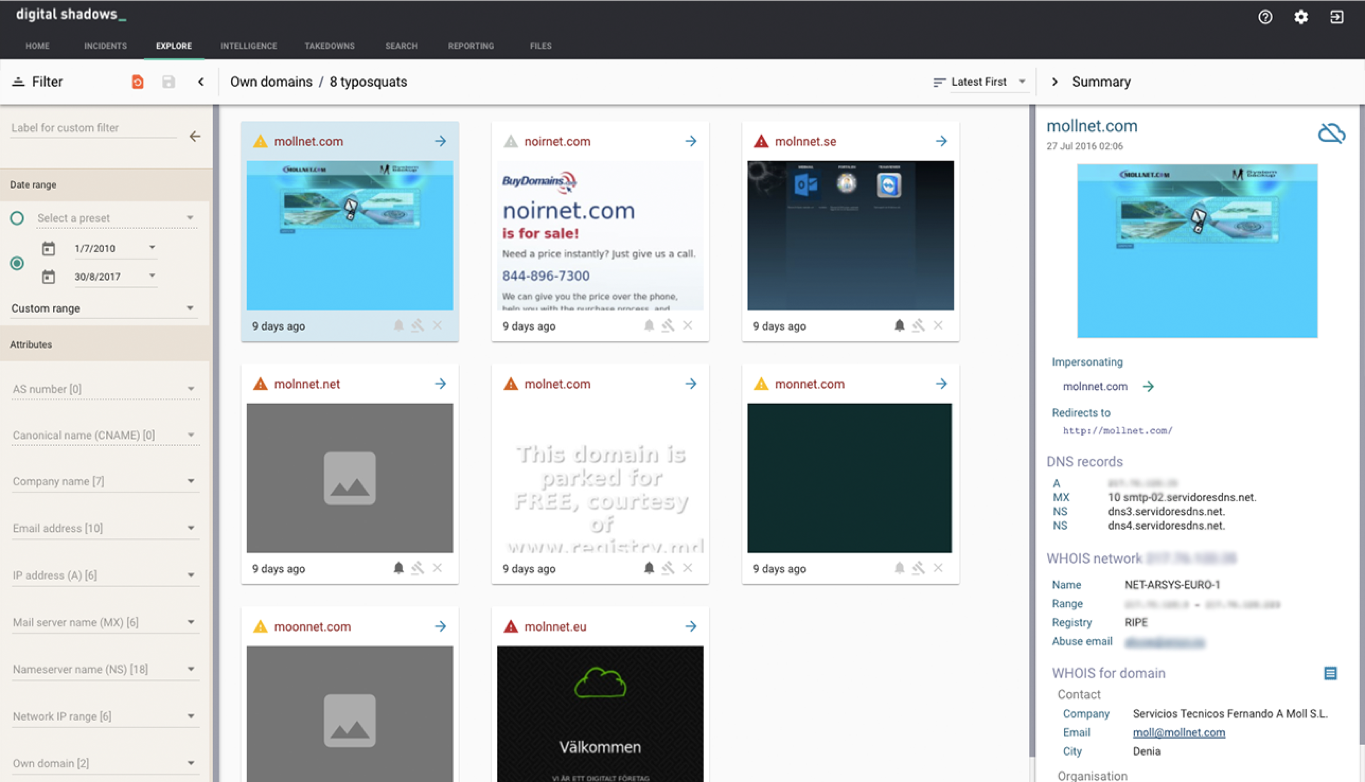 Organizations leave behind a digital footprint, but so do attackers. Here organizations can access SearchLight's comprehensive intelligence repository, which includes: a profile of the threat actor, the threat level posed, known tactics, techniques and procedures, a timeline of their activity, IOCs and links to other actors and campaigns.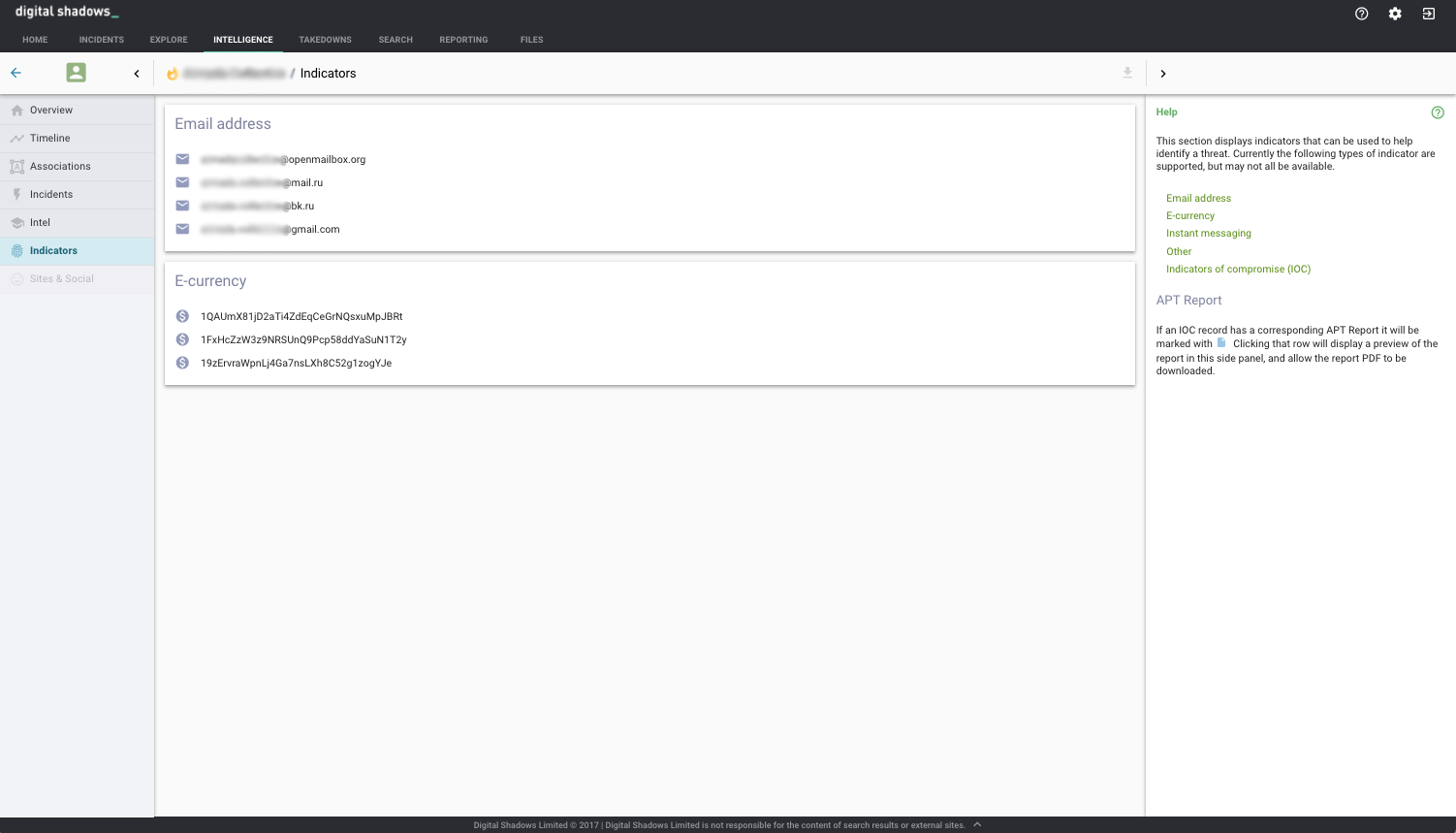 Identification of risks is important, but so too is the ability to remediate and manage them. With Managed Takedown service by Digital Shadows, we identify and initiate takedown requests with your approval or at your request seamlessly across a wide variety of scenarios.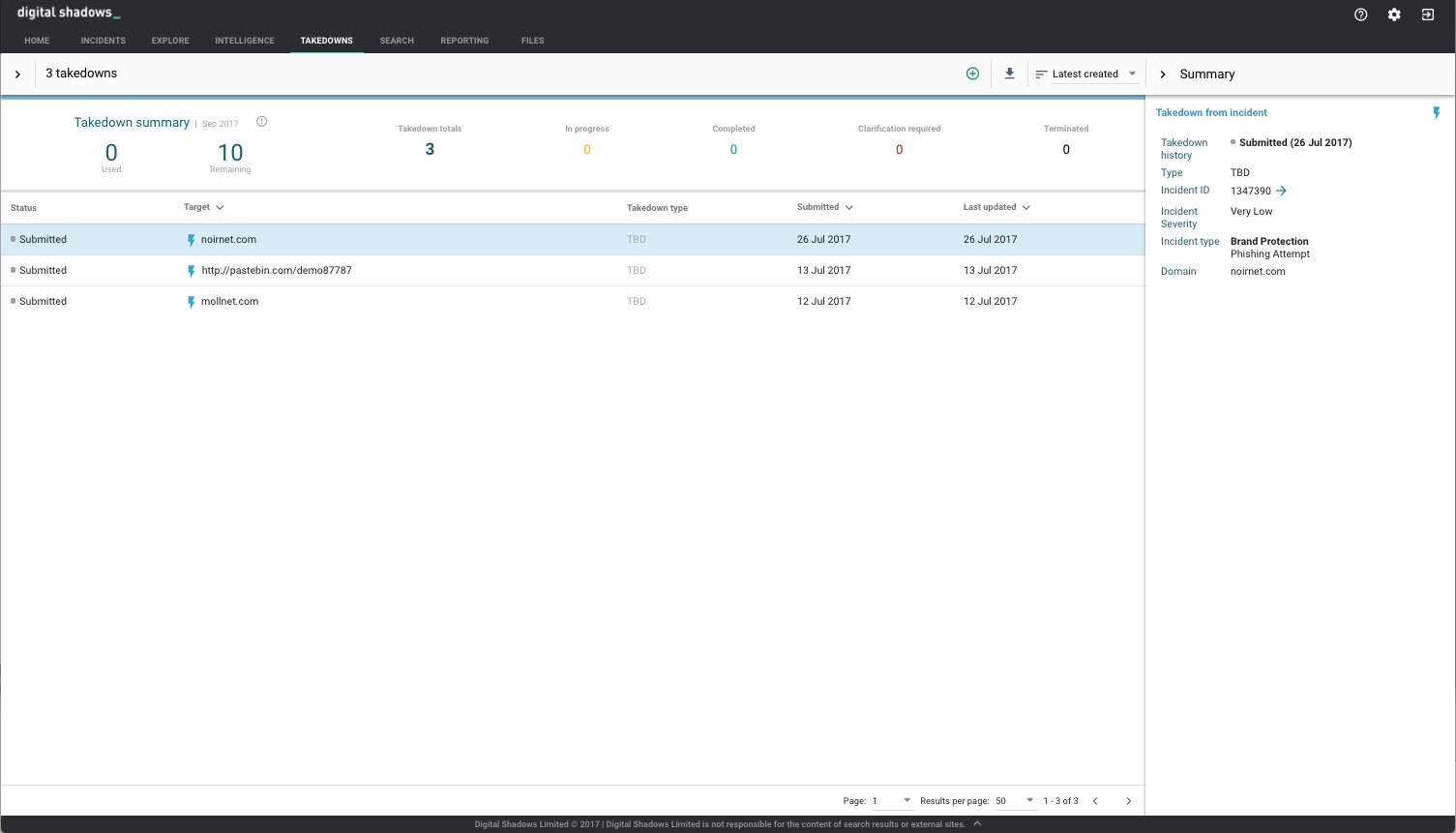 SearchLight also enables users to perform free-text searches across out intelligence, incidents, data breaches, and dark web sites. This includes deep and dark web criminal forums, marketplaces and chats. Bringing these sources together empowers analysts to gain additional context on search terms of interest.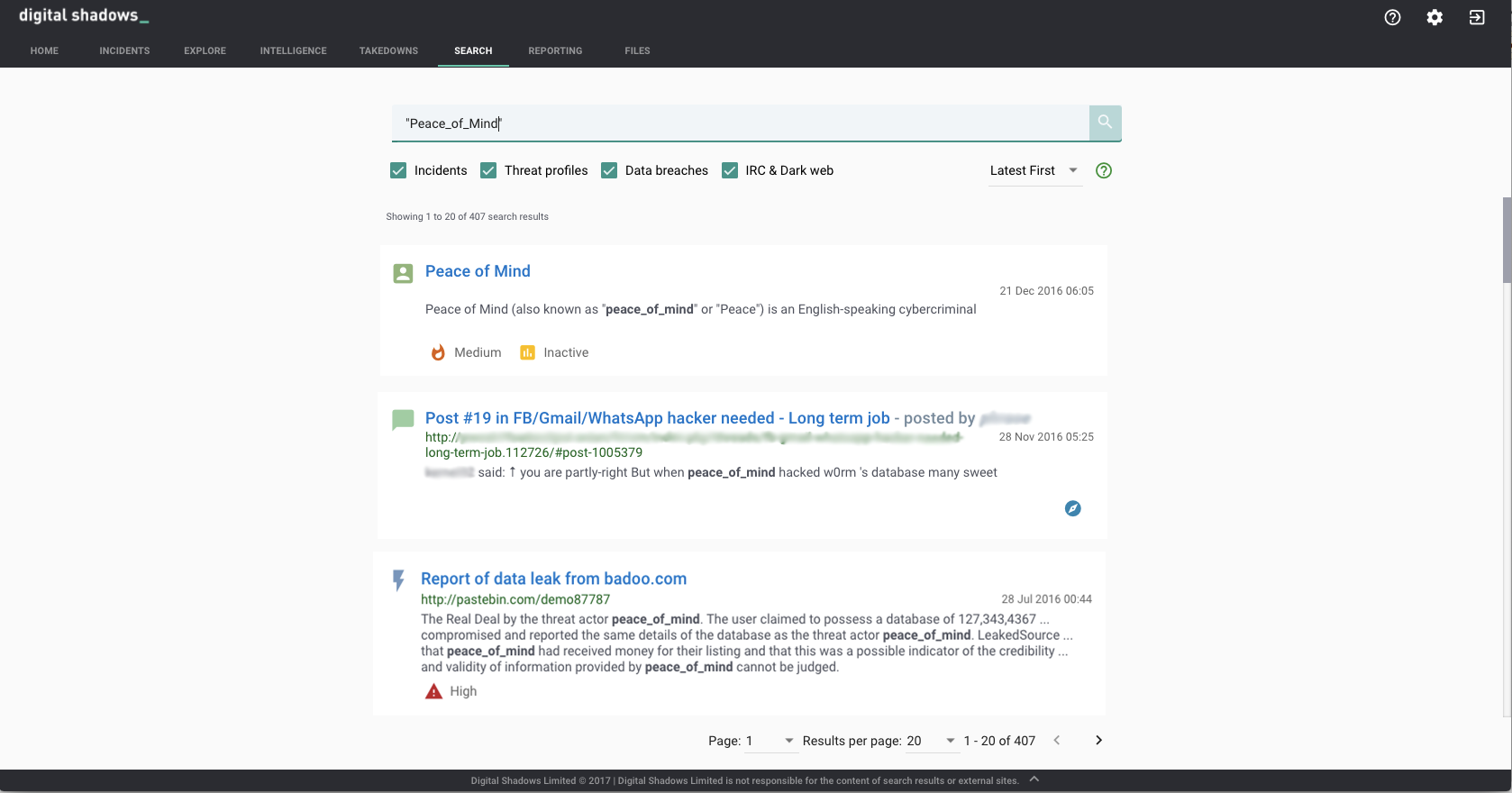 The Reporting tab enables users to create and schedule custom reports based on your company's alerts and the intelligence within the SearchLight portal. These reports are fully configurable and customizable to your company's brand and feel.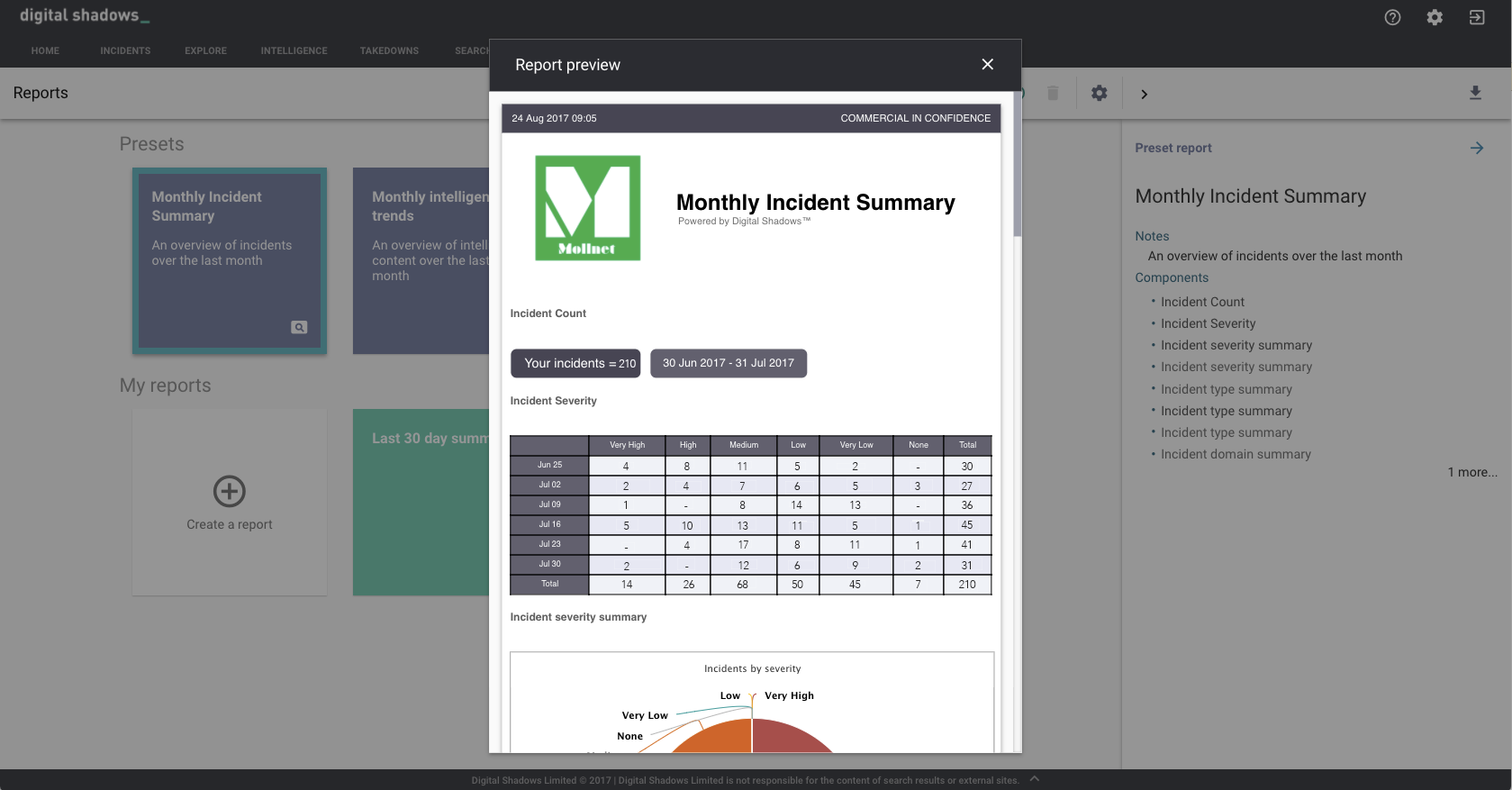 Partner with Digital Shadows
Digital Shadows is committed to delivering the most comprehensive digital risk management service in the industry through collaboration with our strategic partners and channel partner community of value added resellers, MSSP, and system integrators.
Learn more
Stay Connected
Subscribe to get regular updates from Digital Shadows including our weekly intelligence summaries, industry news, trends, events, research, and more.
Subscribe Here
Digital Risk and Threat Intel Resources
Get the latest research, news, and events from our security experts.
Request a Demo
Contact us if you are interested in Digital Shadows.