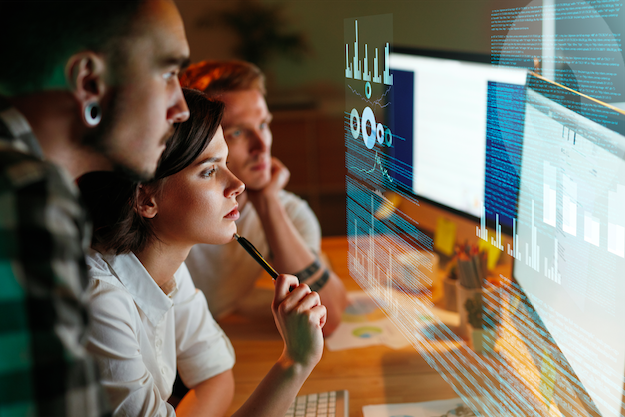 The Need for Rapid Research & Investigation
With the ever expanding threat landscape and rising mitigation costs, it is even more critical to detect and remediate threats quickly and effectively. However, security organizations struggle with the volume and lack of context provided by many event sources and require additional threat intelligence to make the best decisions. With easy-to-interpret results, Shadow Search saves analyst time by putting the information they need at their fingertips, when they need it, all with an intuitive interface.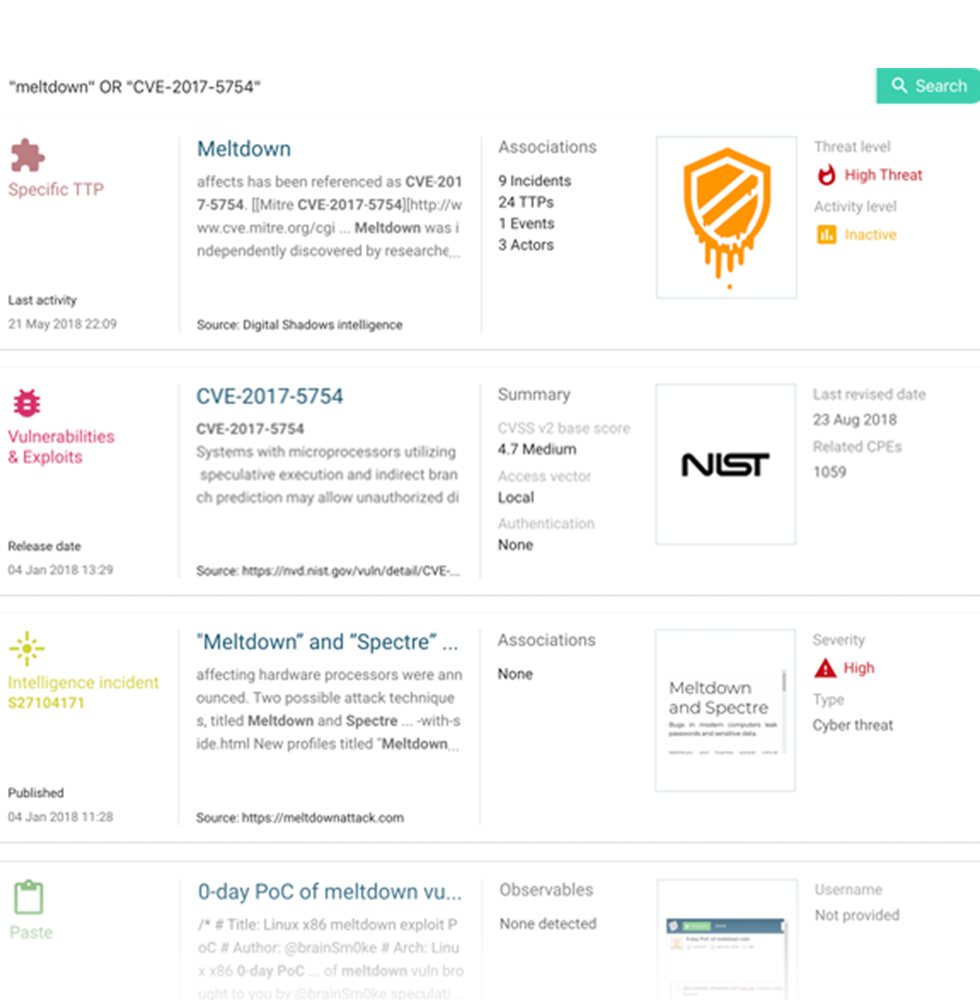 How Shadow Search Can Help Your Team
Immediate Access: instant access to threat data and the open, deep, and dark web when you need it.
Coverage: a vast data repository including curated strategic threat intelligence, exploit and vulnerability information sources and raw threat intelligence from the open, deep, and dark web.
Actionable information: rich results with associated observables, an intuitive interface and full export, allowing analysts to make faster searches and more rapid decisions based on the results.
Relevant results: smart filters and a powerful search syntax enable analysts to rapidly focus on the most relevant information.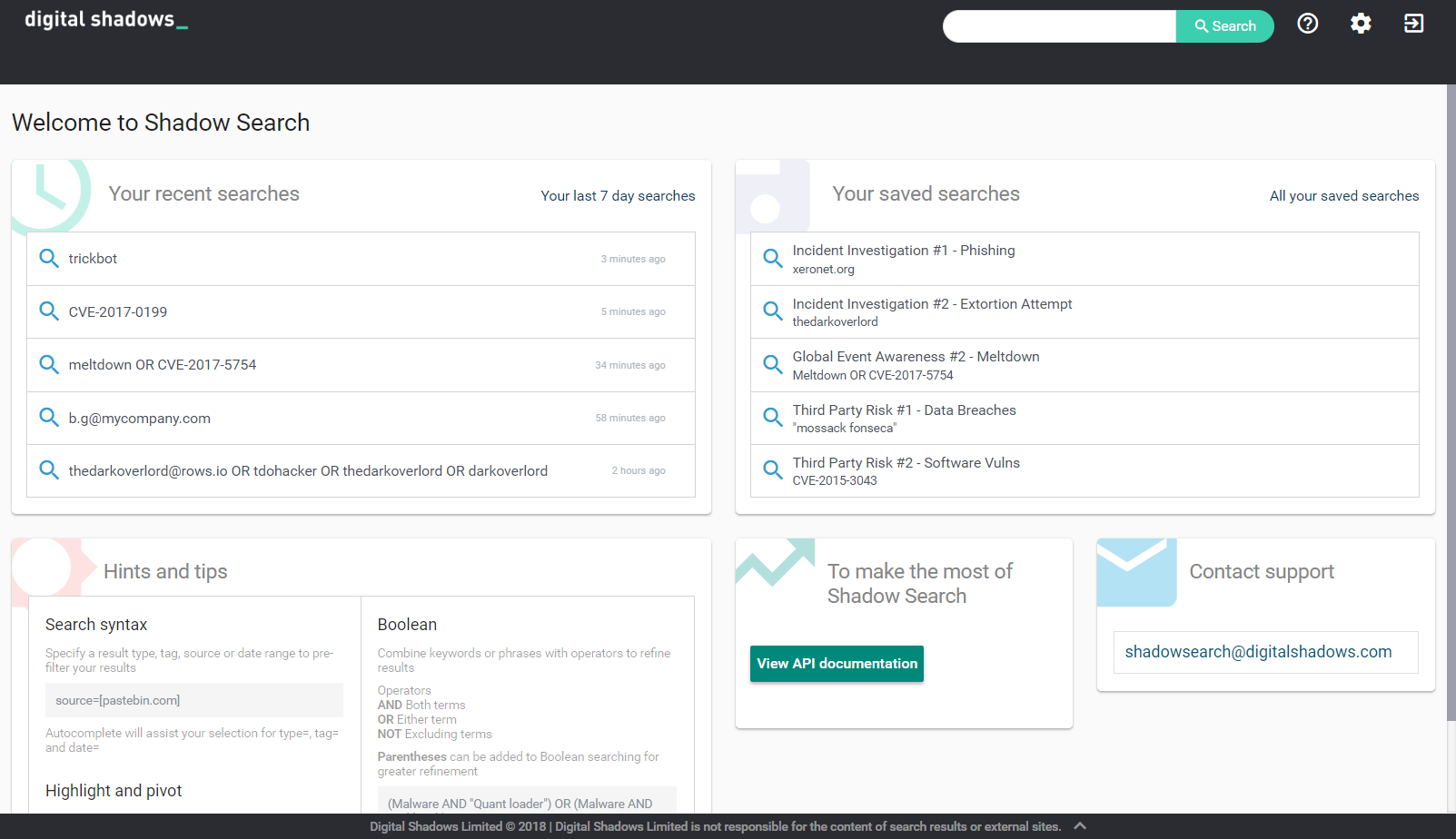 Shadow Search Solves Top Analyst Challenges
Incident investigation: reduce the amount of research required – all relevant data in one place.
Global event awareness: discover the latest cyber threat information from a curated set of published and shared material.
3rd Party risk: research mentions of 3rd party products, brands or observables to assess any potential security impact.
Threat landscape awareness: analyze threats that are relevant to your organization.
Request a Free Demo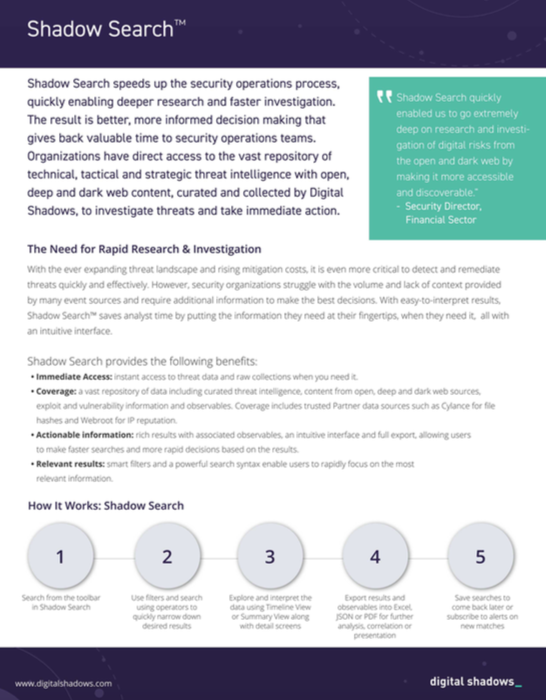 Shadow Search Datasheet
Shadow Search provides fast access to raw & curated intelligence that frees up time for other security responsibilities.
Learn More
Interested in Shadow Search?
Fill out the form below to request a free demo.